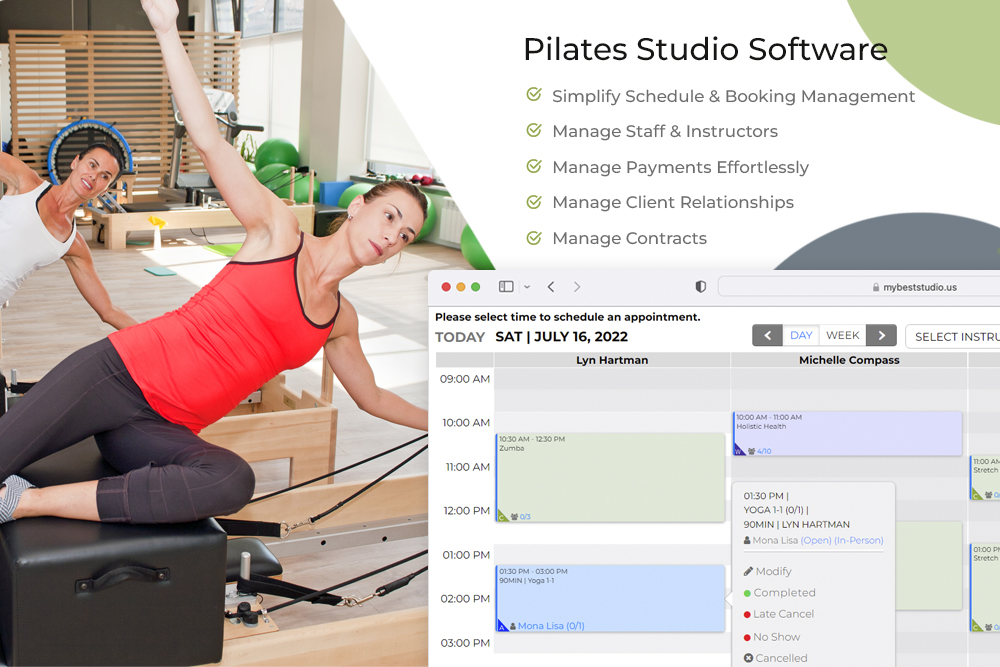 When you're looking for a pilates studio software solution, there are a few features that you should look for:
1. A simple and intuitive interface
You don't want to have to spend hours learning how to use the software. You need something that's easy to get started with, but also has in-depth features for more experienced users. Specialist fitness studio management software like My Best Studio is designed for simplicity. It is used by first time studio owners and seasoned entrepreneurs in the fitness industry alike.
2. The ability to schedule appointments ahead of time.
This will help you avoid missing appointments and losing clients because they were unable to attend due to scheduling conflicts or other issues that could have been avoided if the appointment had been made in advance.
3. The ability to keep track of your client's progress.
You don't have time to manually track your client data or enter their information into multiple systems—you just need one place where all their info lives.  Tracking client progress on your pilates studio management software is important for maintaining a healthy relationship with your clients and helping them get the most out of their sessions. It also makes it easier for you to see how well they're doing and what areas need improvement.
4. The ability to track the performance of your pilates studio.
You don't have time for guesswork when it comes to knowing which marketing campaigns are working (or not). That's why My Best Studio's reporting tool offers detailed analytics that help you understand exactly how many people are coming into your studio, how your revenue growth has been over the last year and more.
5. The ability to customize the pilates studio software according to your needs
Make sure your pilates studio software features are flexible enough to fit into your business model and workflow. Don't settle for something that doesn't have the features you need!